Ko Phra Thong: Where You'll Find Thailand's Tranquil, Calm Beaches
What Makes Ko Phra Thong Unique
If you're visiting Thailand and looking for vast stretches of undeveloped beaches without masses of people, then look no further than the island of Ko Phra Thong. Unlike any landscape you'll witness elsewhere in Southeast Asia, Ko Phra Thong has an inland savannah that resembles Africa much more than the lush, mountainous landscapes that you're accustomed to seeing in Thailand. And while it's worth a bike or motorcycle trip inland to witness the sand lizards and amazing birdlife, the island's real beauty lies in untouched beaches and peaceful atmosphere of the island.
What to Expect on Ko Phra Thong 
You'll notice that the majority of Ko Phra Thong's infrastructure is fairly new, and that's because the 2004 tsunami did significant damage to the villages on the island. Since then, mostly the northern end of the island has been developed into resorts and other accommodations. Even so, Ko Phra Thong remains a relatively off-the-radar attraction on the Thailand circuit. 
Most people arrive by boat to the island at the pier in Lions Village, at the very northern tip. While there are some homestay options available in Lions Village, most people opt to stay at the little resorts a few kilometers south of town. On less inhabited islands, it's usually a smart idea to book or make reservations in advance, that way you can arrange to have someone from the resort pick you up to avoid potential hassles.
Whether you're looking to get away from the crowded beaches and busy resorts in Phuket, or simply looking for something new and spectacular in Thailand, Ko Phra Thong has the rustic seaside huts, quiet beaches, and chilled out vibes you're looking for . You might have...
read more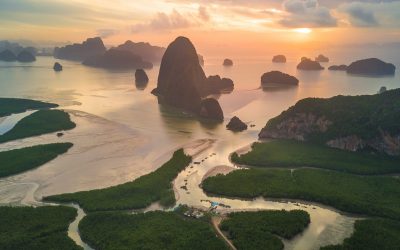 Thailand has become one of the most popular countries to visit in the past 20 years, and for good reason too. With mountainous regions for outdoor enthusiasts to the north, Bangkok for urbanites in the center, and tropical coastlines for divers and beach bums to the...
read more