Sunset Beach, Koh Lipe
Sunset Beach is a 400 meter stretch of white sand beach on the west coast of Koh Lipe in Thailand. Sunset Beach is the quietest and most relaxed of the three major beaches in Koh Lipe. The other main two beaches on Koh Lipe, Sunrise Beach, and Pattaya Beach, are a lot closer to Walking Street which is the island's tourism center.
About Sunset Beach
Sunset Beach gets busiest late in the afternoon as it is known as the best place on the island to watch the sun sink below the horizon. This small beach becomes full of people relaxing on the sand with a drink from around 17:00 onward.
There is very little development on Sunset Beach itself. The beach's main bar, the Banana Bar, is a semi-permanent structure located about halfway along the beach behind the tree line. During the day the Banana Bar is a shady place to have a cool drink. They also serve a limited range of inexpensive Thai dishes. A lot of Thai people come to eat here. From the late afternoon onward they lay out mats on the beach for use by people who buy drinks from their bar, which are very reasonably priced.
Sunset Beach has a small number of resorts which are actually on the beachfront. The best resort, and also the biggest, is Bayview Sunset Resort which has a variety of different types of bungalows from as little as 560 THB a night (booked online) for a basic bungalow with a fan and balcony and from 1,111 THB a night for a bungalow with A/C.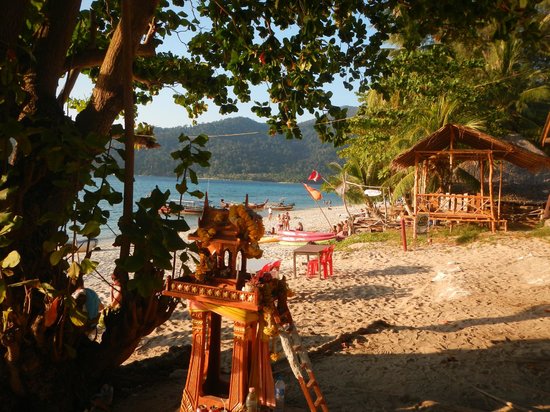 Location of Sunset Beach
Sunset Beach is located 900 meters walking distance from Koh Lipe Walking Street.
Address: The sunset beach resort, 79 moo 4, koh kho khao, Takua Pa District, Phang-nga 82190, Thailand